Here's where you'll find out any news or happenings, gallery appearances, exhibitions or workshops. Take a look at the latest events below and keep popping back for updates.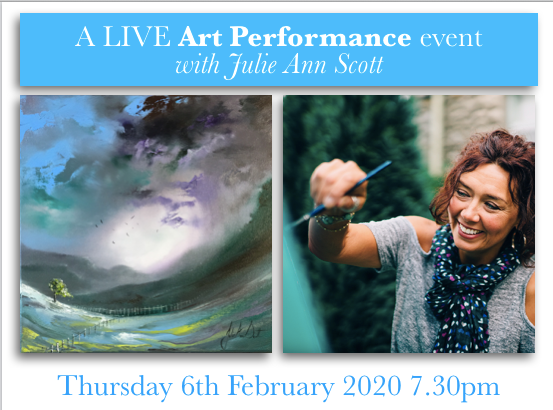 A unique opportunity to see Julie Ann produce a painting in front of your eyes over a period of one night. Julie wants to utilise this gift for the purposes of raising money for a worthy charity called Hope for Justice. Few artists can paint this fast and focus this well in front of a live audience, and she hopes to use this ability to be a charity funding tool for many needy charities around the world. 

The format of the evening is going to be 40 minutes of watching Julie Ann paint. Cameras and large LED screens will enable you to see clearly what Julie is painting while beautiful, gentle music accompanies this visual feast.
Then there will be a break for cheese and biscuits and then a further 40 mins of watching Julie Ann finish the large oil on canvas piece. 
This painting will be for sale along with further smaller pieces and prints. 40% of all sales on the night will go to Hope for Justice. There will also be a raffle where you can win a 3-hour painting lesson with Julie Ann and a Limited Edition print.
Julie has secured a wonderful venue for this event. St Marys Church Longfleet - grand setting with a wonderful yet intimate atmosphere. It also has all the modern lighting and projection available to make this night very special indeed. Candles will also be giving this evening a soft and relaxed atmosphere where you can enjoy a glass of your own wine and be served cheese and biscuits to your table.
Tickets will go on sale January 6th. If 
you'd
 like to guarantee a priority invitation to buy tickets the please email me using the contact form on this website as soon as possible.
A website will be provided in this invitation where you can purchase tickets at £15 each, which includes the price of your cheese and biscuts (by Beals) and tea and coffee. Bring your own wine or refreshments. Spaces are limited so it is important you buy your tickets (as many as you like) as soon as they are released.